M

y guiding light when creating art is to express beauty and meaning to illuminate life.
~ SaraSwati Shakti

mandala'verse™ is a compilation of artworks developed by SaraSwati Shakti to help people tap into their inner process, healing, restoration, and magnificence.
mandala'verse™ focuses primarily on the restorative themes of nature, creativity, spiritual symbology, human development, feminine essence and sacred reflection.
mandala'verse™ is used for reflection, guidance, self-awareness, and as metaphors for the human experience.
For me, my mandala'verse art is meditative, prophetic, and integrative. It gives me a wisdom focus for a week, a whole day, or simply an hour, in work, rest, and play. And as a tool it inspires others too.

~ SaraSwati Shakti
Using the scared art of mandalas, mandala'verse™ helps the viewer engage in imagery, poetry, and self-reflection, to tap into conscious and unconscious awareness and appreciation. It offers a way to speak to the human spirit. And to heal, understand, and gain guidance on human development, the inner, and deeper, path of transition, and actions that can be taken for holistic wellness.
mandala'verse™ products offer affirmative, meditative, and focal energy for people experiencing transition and exploring holistic wellness.
Listen
Hear SaraSwati Shakti talk about her book on Bright New Voices, Hayhouse Radio, and other popular radio shows.
Buy mandala'verse™ Heart Art
Original Art and Poetry for the Heart.
Heart Art mandala'verse is available from:
You can also order this title at your local bookseller or preferred on-line retailer.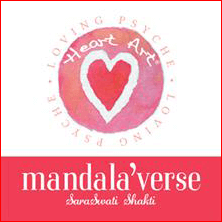 Sometimes poetry and art can do more than soothe the soul – it can inspire! … Heart Art mandala'verse is a beautiful book, filled with lovely poems and colorful mandalas. You open it up, and get drawn in to the colorful mandalas and short poems.
What others are saying…
"I go and pick a page for the day and it cheers me up if I am feeling a little flat."
"It is very restful."
"I like to sit and contemplate with it."
"I have a copy on my bedside and I like to read it before I go to sleep."
"The mandalas are so colourful and beautiful. It is a pleasure to flick through them and pick."
"There is so much symbology in it that is remarkable."
"A perfect tool for use as art and creativity inspiration. It is inspirational."