I was inspired to seek, after watching features on the ABC during NAIDOC week, some remnants of memories of a time away, on walkabout, when I visited the centre, of Australia. The spiritual centre. Of Ulura and Kata Tjuta. A beautiful view.
It was on my list for many years. A dream that had finally come true.
My heart touched unfathomably by experiencing indigenous sacred space, and surrounding community. 
It was in January…hot! There were copious flies to swat, the weather intense, as I slow, slowed down, walking my body around. Feeling the intensity. With loving propensity.
And oh what joy it did bring, instead of focusing on the blistering heat difficulty, I was appreciating the opportunity of travelling, and noticing the brighter side of things, the silver linings…Stormy, rainy weather springs…sensationally dramatic. Waterfalls and rainbows, and rich red soils. Groundedness, in realness. And aliveness. In the heat and the heart, of the semi desert. A total Dreamtime Present. 
There is something so magical about hearing the stories of an ancient land. Many layers revealed of traditional values, customs, and virtues, that are perpetual to honouring and weaving of diverse peoples.
Allowing for the beauty of navigating inner and outer landscapes, in listening, relating, and wholly appreciating.
If you too are pining for some travelling, as the Sydney lockdown keeps expanding, take some time, to realise the silver linings in what you are currently experiencing, as a way to manage through the frustrating, in the wish to break free, of the heat of unravelling. Jot down what some of the benefits may be, of heart and home, in the winter stay at home drone. There may be many ideas, projects, books, and shows that are calling to you to tune into, on your own, or with people around you. That are inspiring.
And while you are at it you may wish to include some dreams that you can fulfill when a wider life starts to renew. I know I will, to compensate for those interrupted, as I travel instead, with my hearthead, from my lounge room.
In the meantime, in honour of the end of NAIDOC week, please enjoy a drawing after my visit to the site of Anangu Uluru. It reflects for me the sacred ground and surrounds, in the searing heat of January. And it captures the beauty of the climatic and earthly landscape I experienced. It is called 'Heartfelt Horizons, Lustrous Landscapes' in recognition of my love for travel and my anticipation of witnessing and capturing beautiful inner and outer landscapes of scenery using art and creativity. Perhaps it can also inspire some plans for your heartfelt horizon and lustrous landscape dreams to come true, bringing them into clearer view.
Stay well.
SaraSwati Shakti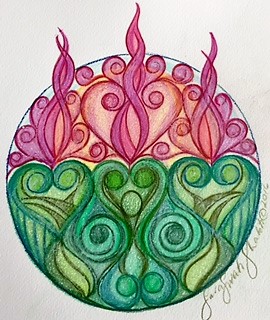 Heartfelt Horizons, Lustrous Landscapes
SaraSwati Shakti

Copyright. All rights reserved.