I was inspired to seek, after watching features on the ABC during NAIDOC week, some remnants of memories of a time away, on walkabout, when I visited the centre, of Australia. The spiritual centre. Of Ulura and Kata Tjuta. A beautiful view.
It was on my list for many years. A dream that had come true.
My heart touched unfathomably by experiencing indigenous sacred space, and surrounding community. 
It was in January…hot! There were copious flies to swat, the weather intense, as I slow, slowed down, walking my body around. Feeling the intensity. With loving propensity. Excited by the experience in front of, and around me.
And oh what joy it did bring. Instead of focusing on the blistering heat difficulty, I was appreciating the opportunity of travelling, and noticing the brighter side of things, the silver linings…Stormy, rainy weather springs…sensationally dramatic. Waterfalls and rainbows, and rich red soils. Groundedness, in realness. And aliveness. In the heat and the heart, of the semi desert. A total Dreamtime Present. 
There is something so magical about hearing the stories of an ancient land. Many layers revealed of traditional values, customs, and virtues, that are perpetual to honouring and weaving of diverse peoples.
Allowing for the beauty of navigating inner and outer landscapes, in listening, relating, and wholly appreciating.
Yet what if you are not presently living your dreams? And you are experiencing delays in their eventuating. How do you come to terms with what that means? Where, in your daily experiences, you more easily tend to focus on the deficits, of your life as it is unfolding, in the winter weather evolving. And pining for some silver linings, or alternatives, to what is actually happening, in the life that you are travelling. 
Consider taking some time, to realise the treasures in your present surroundings. And the richness of unearthing the landscape of yourself, and what you can experience, with welcome, in your life as it happens. Finding, and creating, the magic in the days that you are living. To keep your perspective appreciatively fulfilling. 
Jot down what some of the benefits may be, of heart and home, in the winter zone. Warming your heartmind of the imaginative, and the realities of the beauty, that appears daily. There may be many short trips, ideas, projects, books, and shows, that are calling to you to tune into, on your own, or with people around you. That are inspiring. And pleasing. For unearthing.
And while you are at it, you may wish to include some dreams that you can fulfil when your wider life starts to renew. Where, you can compensate, and travel instead, with your hearthead, from your lounge room. Formulating adventures that you can plan too, to experience destinations that await you, for a whole life lived, that you can look back on, with a fond view. 
And in the meantime, in honour of NAIDOC week, and the amazing indigenous contributions and wild wonders of our landscape, please enjoy a drawing after my visit to the site of Anangu Uluru. It reflects for me the sacred ground and surrounds, in the searing heat of January. And it captures the beauty of the climatic and earthly landscape I experienced. It is called 'Heartfelt Horizons, Lustrous Landscapes' in recognition of my love for travel and my anticipation of witnessing and capturing beautiful inner and outer landscapes of scenery using art and creativity, in my own life, unfolding.
Perhaps it can also inspire some plans for your heartfelt horizon and lustrous landscape dreams to come true, bringing them into clearer view.
SaraSwati Shakti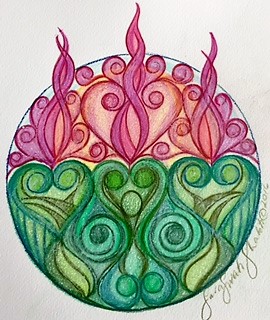 Heartfelt Horizons, Lustrous Landscapes
SaraSwati Shakti

Copyright. All rights reserved.